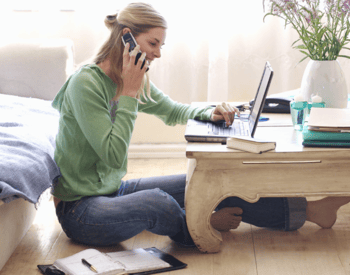 Since coronavirus lockdown more people have been working from home
and electricity bills have risen by approx 11%
Energy bills are rising for Irish households with people working from home while trying to stop the spread of Covid-19. Take this into consideration with the fact that 84% of homes are currently out of contract with their electricity supplier and you get a lot of busy professionals paying too much for electricity and gas right now.
Find out if you are paying too much for electricity and gas while working from home
How does EnergyBroker help busy professionals lower bills during coronavirus?
Since lockdown there has been on average an 11% spike in electricity usage. This means an out of contract* electricity bill will be €1113 compared to an in contract electricity bill which will be €801.
This is a yearly savings of approx €312, or, 3 1/2 months free electricity every year!
Chop my coronavirus energy bills by up to 30%
At EnergyBroker we work with busy professionals every day and understand how time consuming it would be for you to search for the best prices and switch to the best supplier. That's why we offer a full service plan - comparing prices and making the switch on your behalf. All we need is a copy of your latest energy bill, so we can see what tariff you are on and what meter type you have.
You can sit back and relax, we will do all the work. Comparing prices to switching your contracts.
* What is an energy contract?
If you live in a house or apartment and use electricity or gas that energy is supplied by an energy supplier. (check the top of your latest bill to see who your supplier is) Examples of energy suppliers in Ireland are - SSE Airtricity, Iberdrola, Bord Gáis, Flogas, Electric Ireland, Energia, Pinergy and Panda Power.
When you signed up to get your energy from this supplier you would have entered a contract with them. Energy contracts are usually for 1 year and let you know how much you will be paying for each unit of electricity and gas.
Going out of contract
When you go over your 1 year contract end date you are automatically transferred to a higher rate. Which means the price you pay goes up. This is called being out of contract with your energy supplier.
It is up to you to then compare prices with other energy suppliers to see who is offering the best deal. Once you've found a contract you're happy with you switch supplier. It is then up to you to keep track of your contract end date so you don't go out of contract and start paying a higher price for your energy again.
Contract end dates
An energy contract is usually for 1 year. Meaning, if you signed up on June 1st 2020 your contract will be up June 2nd 2021. Staying with your supplier and going past this date while not entering into a new contract with them will result in you paying a higher price for energy. It is up to you to make a note of contract end dates, but if you have the team at EnergyBroker managing your home energy contracts for you we look after all that while you get to focus on your own work.